cherry +  rose + liqueur: A luxurious blend of sweet and tart Michigan cherries, infused with the floral notes of rose petals and delicate finish of cherry liqueur. This profile has a looser set as we rely on the natural occurring pectin from the cherries alone. 
Ingredients: cherries, organic cane sugar, cherry liqueur, rose buds, lemon juice. Contains less than 0.5% alcohol. REFRIGERATE AFTER OPENING.
Purchase includes a premium velvet carrying bag, so you'll never be without your favorite preserves!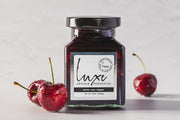 cherry + rose + liqueur