blueberry + lemongrass + sake
blueberry + lemongrass + sake: Using delicate cooking techniques, we retain the fragrance and flavor of the best Michigan blueberries. The lemongrass offers a beautiful lemon fragrance and slightly tangy flavor similar to lemon zest. This flavor profile is finished off with a refreshingly dry sake with a floral aroma. 
Ingredients: blueberries, organic cane sugar, lemongrass, sake, lime juice. Contains less than 0.5% alcohol. REFRIGERATE AFTER OPENING.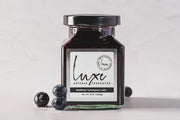 blueberry + lemongrass + sake